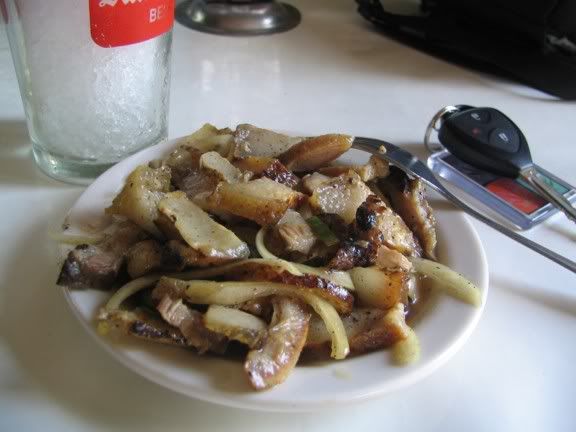 Igado Recipe

Liza, being Ilocana, introduced me to the Ilocano/Ilokano recipe igado. I tasted this food at a local karenderia, and I immediately liked the taste. It is similar to adobo, but with a little more spice and zest to it.

Ingredients:
½ kg pork, finely sliced
¼ kg liver, finely sliced
¼ kg heart and kidney, finely sliced, if available
1 onion, chopped
3 cloves garlic, minced
1 bell pepper, chopped
1 small can garbanzos (chick peas) or green peas
2 or 3 pieces green chili (siling haba)
½ cup vinegar
¼ cup soy sauce
2 tbsp. peppercorns
salt

Preparation:
- Marinate pork and liver in ¼ cup vinegar for 2 to 3 hours

Method:
- Saute garlic, onions, and bell pepper.
- Add pork, liver, heart, and kidney.
- Add chick peas or green peas.
- Stir fry until pork is light brown and until organ meats are half-cooked.
- Add vinegar, soy sauce, and pepper.
- Add salt to taste.
- Simmer until meat is fully cooked.
- Add green chili as garnish if desired.
- Serve with steamed rice.